Connect with your future
and create
your venture.
Focus sentinel
Focus sentinel
Next edition: 2024
The pre-incubation program Explorer helps you validate your idea and turn it into a sustainable business. Over 12 weeks, you will transform your project into a solution that contributes to achieving the 2030 SDGs.
Registration

October 12th to December 12th.

Program

January 29th to April 28th

Countries

Germany, Argentina, Brazil, Chile, Colombia, Spain, United States, Mexico, Peru, Portugal, United Kingdom, and Uruguay

Dedication

8-10 hours per week for 12 weeks

Free

Funded by Santander Universities

Format

Blended or 100% online, depending on the institution
Join a global community of entrepreneurs

With Explorer, you will become an active part of the change by initiating projects that will boost your financial freedom.

Certificate of participation
Validate your idea
Verify the viability of your project: experiment, ask questions, resolve doubts, network… without risking anything! without risking anything! When you finish the programme, you will know if your idea can bring you the financial independence you are looking for.
International community
You will have access to an international community of entrepreneurs like you that grows with more than 1000 participants in each edition. They will be your support and give you the feedback you need to keep moving forward with your project.
Certificate of participation
When you complete the 12 weeks of Explorer, you will receive a certificate of participation that you can attach to your LinkedIn profile. It will reflect the skills you have learnt in the programme.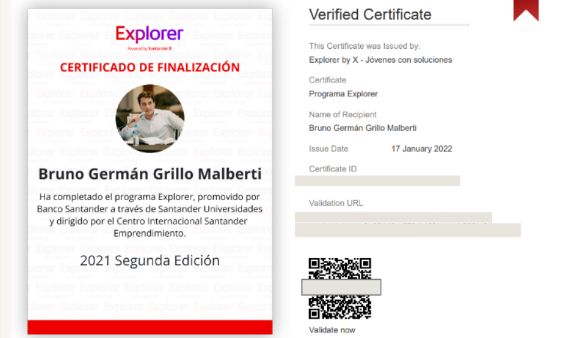 Santander X Community
All those who complete the programme and achieve the Explorer Certificate will gain access to the Santander X Community, where they will enjoy various interesting perks.
Prepare to Launch
ust for being an Alumni Explorer you will be in a good starting point to qualify for one of the 100 exclusive places in the Santander X Prepare to Launch programme, in collaboration with Babson College, which will take your project to the next level.
TalkX
The most prominent figures in entrepreneurship will be part of the programme: in each TalkX, they will share their experiences, offer advice, and inspire you to move forward. If you are one of the selected individuals, you will have the opportunity to join our guests in a private session.
Explorer Fridays
Some Fridays (you can propose as many as you want), the Explorer community meets in person in several cities to share concerns, doubts, and good vibes. And while we're at it, we have a drink; are you up for it?
Explorer Coach
Entrepreneurship is not easy and requires taking care of your project as much as your physical and mental health. For those tips, advice and experiences that no one else will tell you about, you have Explorer Coach, a podcast exclusively for participants in the programme.
Q&A
Do you have any questions about the tasks, the concepts you are learning, or how to put into practice what is covered in the training itinerary? In our Q&A sessions, our Experts will answer them.
Grecia Pérez - Ellas Artes

"With Explorer I discovered that it was possible that an online programme motivates me".

Watch video

Focus sentinel

Focus sentinel

Focus sentinel

Focus sentinel

Focus sentinel

Focus sentinel

Andrés Gutiérrez Aguilar - GOHYDRANT

"Explorer shows you entrepreneurship as a lifestyle".

Watch video

Focus sentinel

Focus sentinel

Focus sentinel

Focus sentinel

Focus sentinel

Focus sentinel
Create your entrepreneurship and make a positive impact in the world

Twelve weeks to transform your idea into a solution that contributes to achieving the 2030 SDGs.

Blog
The tips and news you need to start your entrepreneurial journey.
Partners
A Santander programme in collaboration with UCEIF.